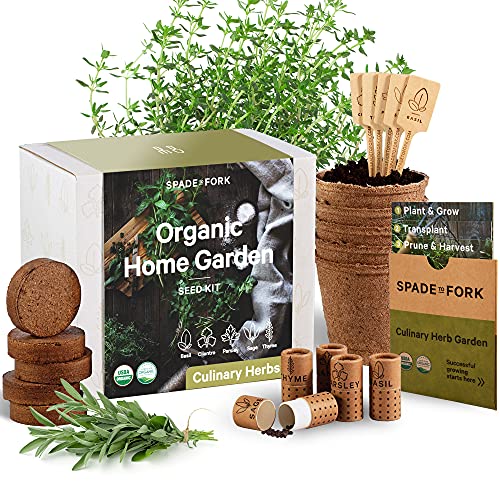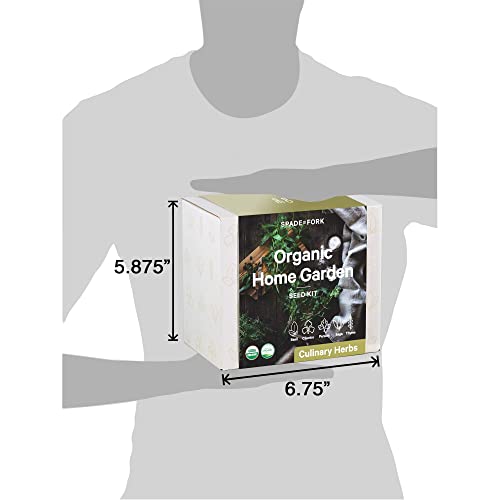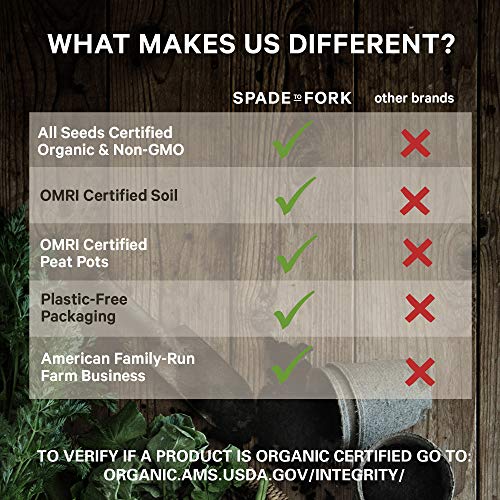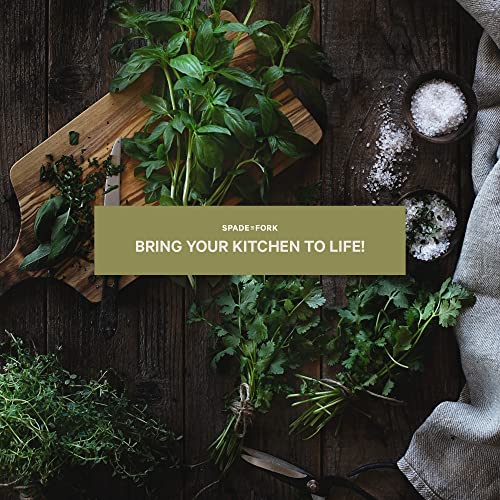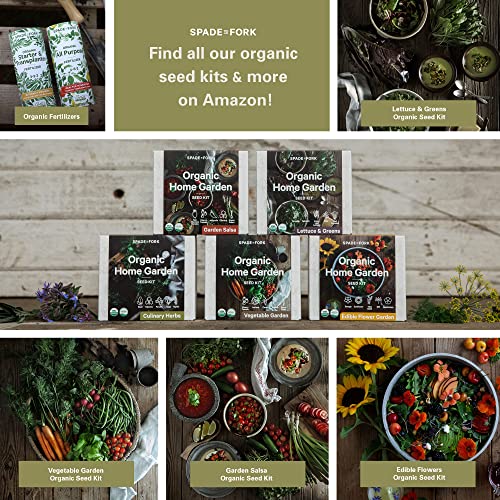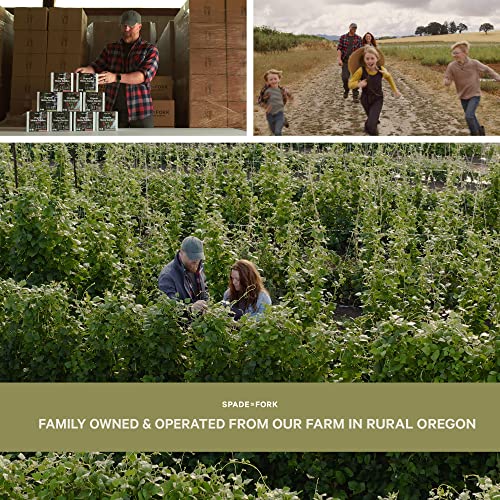 Indoor Herb Garden Starter Kit - Certified USDA Organic Non GMO - 5 Herb Seed Basil, Cilantro, Parsley, Sage, Thyme, Potting Soil, Peat Pots - DIY Kitchen Grow Kit for Growing Herb Seeds Indoors
Brand: Spade To Fork
Features:
Oregon Family Farm Business - Our company is family owned and operated right here on our 65 acre farm in rural Oregon. Each Spade To Fork plant sprouting box set contains 5 types of Certified USDA Organic Non GMO seeds, including Italian Large Leaf Basil, Coriander Cilantro (slow bolt), Peione Parsley, Broad Leaf Sage and Thyme; 5 OMRI certified compostable peat pots; 5 OMRI certified rich potting soil discs; 5 custom wood burned plant markers; our beautiful and helpful 26pg growing guide
Entire Kit Is Certified USDA Organic - Most kitchen herb garden germination kits only include organic seeds, but their soil and pots are sometimes treated with harmful chemicals and pesticides. We are strong believers in sustainable, eco friendly, fully organic systems that are safe for our families and women, men, kids and every grower. Our DIY culinary planting system is fully and proudly certified by ODA right here in Oregon.
The Perfect Special Gift - Our indoor herb growing kit makes a fun gift for virtually anyone -- man or woman, vegetarian or vegans, mom on mothers day, dad on fathers day, best kitchen gifts or housewarming present. Our kits grow perfectly on a windowsill, in an apartment or condominium, in a personal outdoor greenhouse, or in your home window sill, balcony or even countertop.
Bring Your Kitchen To Life! - Every kitchen looks better with fresh herbs and plants on the countertops. Our decorative kit with heirloom seeds is a unique way to add food to your planters and spice up your mealtime with a little gourmet flavor from your own home gardens!
Details: Spade To Fork is a family owned, family run business based on our 40 acre farm in rural Oregon. Cooking, gardening and outdoors are our passions and we would love for you to join us as we grow in this new and exciting community. Each and every one of our indoor grow kit boxes contains the seeds of a quiet revolution to make food personal again. There is nothing better than fresh food created in your own home. Thank you for your interest in our growing family--you are always welcome! Your Spade To Fork Kit Contains: (5) Certified USDA Organic, non GMO, seed tubes + Italian Large Leaf Basil + Coriander Cilantro (slow bolt) + Peione Parsley + Broad Leaf Sage + Thyme (5) Certified USDA Organic rich soil discs (5) Certified USDA Organic compostable peat pots (5) Beautiful wood burned plant markers with herb name and date planted field (1) 10-page, detailed and thorough seed starting instructional pamphlet (+) Our 100% Money Back Grow Guarantee!
EAN: 0860000469807
Package Dimensions: 7.2 x 7.1 x 4.6 inches